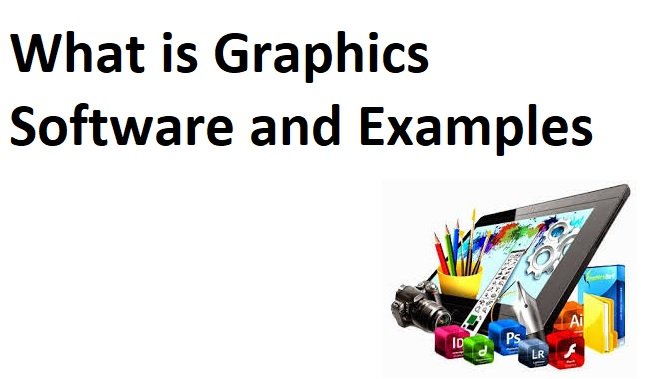 What is Graphics Software and Examples
In computer graphic, graphic software or image editing software is program or collection of programs that enable a person to manipulate visual images on a computer. Computer graphic can be classified into two distinct categories:-
Raster Graphics and,
Vector graphics
Many Graphics programs exclusively on either vector or raster graphics, but there are a few that combine them in interesting ways. It is simple from vector graphics to raster graphics, but going the other way is harder. Some software attempt to do this.
In Addition to static graphics, there are animation and video editing software.
Some Software are:-
Paint Programs
Presentation Graphic Software
Animation Software
CAD Software
CorelDraw
Adobe PhotoShop
1.Paint Programs
Allow you to create rough freehand drawings. The Images are stored as bitmaps and can easily be edited. It is graphic program that enables you to draw pictures on the display screen which is represented as bitmaps. In Contrast draw programs use vector graphics, which scale better.
2. Presentation Graphic Software Lets you create bar charts, pie charts, graphics and other types of images for slideShows and reports.
3. Animation Software
Enable you to chain and sequence a series of images to simulate movement. Each image is like a frame in a movie. It can be defined as a simulation of movement created by displaying a series of picture or Frames. A Cartoon on television is one example of Animation.
4. CAD Software
Enables architects and engineers to draft Designs. It is the acronym for computer added design. A CAD design system is a combination of hardware and Software that enables engineers and Architects to design everything from furniture to airplanes.
In addition to the software, CAD systems require a high-Quality graphics monitor; A Mouse, Light pen, or digitizing tablet for drawing.
5. CorelDraw
Corel corporation developed and released a software program called Coreldraw, a vector graphics editor. The Software is a robust graphics suite, Providing many features for user to edit graphics. These features include contrast adjustment, Color balancing, Adding special effect like border For images, and it is capable of working with multiple layers and multiple pages.
6. Adobe PhotoShop
It is a Graphic editor text and vector graphics capabilities to developed and published by adobe Systems. It is the market leader for commercial bitmap images manipulation, and probably the most well-known piece of Software produced by adobe systems. It is considered the industry standard in most, If not all, Job related to the use of visual elements. It is usually referred to simply as "PhotoShop". PhotoShop is currently available For Mac OS and Microsoft Windows. Version up to PhotoShop 21.1 can also be used.
You might Like:-
HISTORY OF JAVA LANGUAGE. BYTE CODE, INTERNET AND JAVA.